Perks Of Being A Wallflower - film info & bioscoop agenda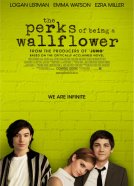 Perks Of Being A Wallflower
The Perks of Being a Wallflower, met Logan Lerman (The Three Musketeers) Ezra Miller (We Need to Talk About Kevin) en Emma Watson in haar eerste hoofdrol na de Harry Potter filmreeks, is een ontroerend drama over de prachtige hoogtepunten en verschrikkelijke dieptepunten op de weg van tiener naar het volwassen leven. De film behandelt de voor velen herkenbare onderwerpen als populariteit eerste liefde en seks - en de echte vrienden die je gedurende alle verwarrende en lastige situaties door dik en dun bijstaan. Geproduceerd door de makers van Juno en geinspireerd door het gelijknamige bestseller boek van Stephen Chbosky.
genre: Drama
met: Paul Rudd, Emma Watson, Logan Lerman, Nina Dobrev, Mae Whitman
regie: Stephen Chbosky
land: Verenigde Staten
speelduur: 103 min





klik en stem als eerste!
sterren (
Voor deze film zijn geen draaitijden meer bekend.