The World's End - film info & bioscoop agenda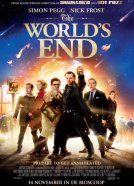 The World's End
Na Shaun of the Dead en Hot Fuzz keren Simon Pegg Nick Frost en regisseur Edgar Wright terug voor de absolute afsluiter van hun trilogie: The World's End. In deze actie-komedie overtuigt Gary King (Simon Pegg) 4 van zijn jeugdvrienden om een kroegentocht te ondernemen in hun geboorteplaats. Hun doel is twaalf kroegen te bezoeken met The World's End als laatste bestemming. Na een aantal bizarre gebeurtenissen in het kleine stadje is het de vraag of ze de avond zullen overleven.
genre: Komedie
met: Rosamund Pike, Simon Pegg, Nick Frost, Paddy Considine, Martin Freeman
regie: Edgar Wright
land: Verenigd Koninkrijk
speelduur: 109 min





klik en stem als eerste!
sterren (
Deze film draaide voor het laatst op 8 september 2017 om 19:30u in
Cinecetta